To Work on a Yacht Without Experience – Make a Plan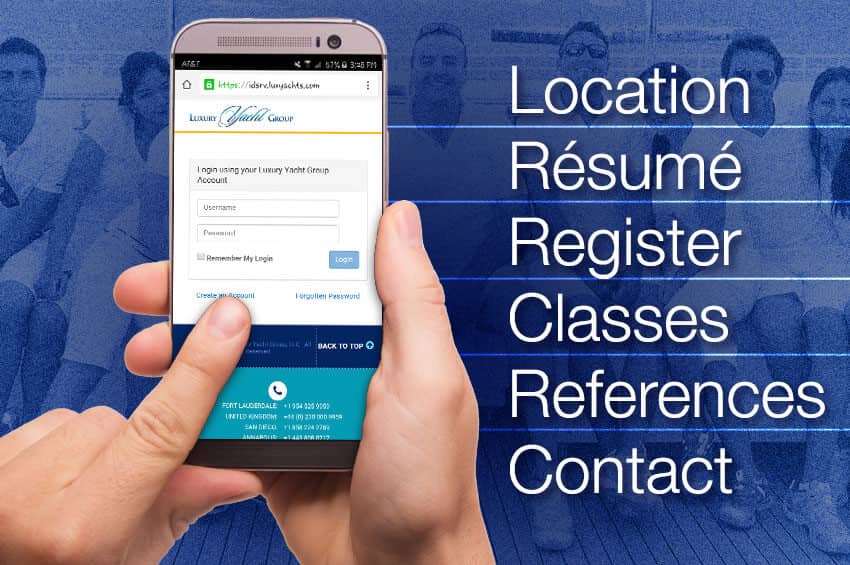 To Work on a Yacht Without Experience – Make a Plan
29 Apr 2016
Yachts do hire people with no experience in yachting. The entry-level positions which offer new crew the best opportunity to learn the "ropes" in yachting are: junior deckhand, stewardess, steward, or cook. The key to finding your first position onboard is preparation.
There is a lot of competition for the rookie jobs on yachts. Begin your job search by identifying what skills you have that would be useful on a yacht. Assess your present skills and experience to focus on the characteristics that apply to the job you are targeting. Applicants with professional hospitality experience and training, at a hotel, resort, cruise ship, estate, or restaurant, are at an advantage in entering yachting. Holding specialty skills is also a means to enter the industry, such as masseuse, au pair, fishing guide, engineer, kite surfing instructor, pianist or helicopter pilot. You may just hold the skill that a captain needs to supplement his crew.
In all cases, stepping aboard will require a willingness to work hard and long as part of a team. An interest in learning and being flexible will increase your chances of finding a position that opens a new career path.
To get hired on a yacht with no experience you need to:
Be in the right place at the right time
Have a professional resume
Register with Luxury Yacht Group
Complete basic STCW classes
Build references with day work
Maintain contact 24/7
Be in the right place
There are seasons in the yachting industry. You will have the greatest opportunity without experience if you are in the location of highest demand and that changes throughout the season. The European season is May through September, centered in Antibes, France. The Americas/Caribbean generally place out of Fort Lauderdale early winter and early spring. In-person interviews are vital to success in finding a first opportunity. Arrange for flexible accommodations and have adequate living expenses to support yourself through a potential two month job search. Many first time yacht crew receive an immediate offer based on being in the right place at the right time, and could say "yes" on a moment's notice.
Have a professional resume
Prepare a CV that portrays you as an energetic team player. Take care with the details. The resume is your best marketing tool. Typos and grammatical errors are red flags for a crew agency. Include a good photo as it is the industry standard. Smile and look the part. Use the Luxury Yacht Group web site for guidance on the basic skill sets for entry level positions. Be diligent in defining experience and highlighting transferable skills. Education, previous job experience, training or knowledge specific to the industry will get your CV a second look. List your most recent experience first. Hobbies and volunteer work can also illustrate character and work ethic. Diving, water sports, fishing, woodworking are hobbies which enhance your fit on a yacht. Provide professional references who have given you permission to use them as a contact. Captains look for an intersection of experience, certifications and personality in making hiring decisions. Give yourself an edge with a bit of personal detail – playing a musical instrument, proficiency in languages, flower arranging – to add dimension to your personality on paper.
Register with Luxury Yacht Group
Register with Luxury Yacht Group. A large agency with high placement volume offers the most opportunity to identify options for inexperienced crew. Be prepared to interview. Understand the requirements of entry level positions and how to explain the relevance of your experiences. Share stories which illustrate your work ethic, ability to solve problems and work in a team. Be on time and make a professional appearance. Some entry level positions have few specific requirements, but a captain will define specific preferences in a candidate. During an interview offer detail, enthusiasm and discretion when sharing experiences to display your ability to do routine tasks aboard, multi task, and be part of a team. Keep in touch with the agency regularly by logging into the website and confirming interest in any jobs that look good to you. Update your CV as you pick up day work experience, establish local references and complete any coursework you can locally while looking for work.
Complete basic licensing
Basic STCW is a minimum requirement to work on yachts that charter. The course has four parts and takes a week to complete. The modules which make up the Basic STCW certification are: 1) fire prevention and firefighting, 2) personal survival techniques, 3) personal safety and social responsibility, 4) first aid/CPR. Once the certificate is earned, it is valid for five years. Some modules do not expire. Check with your maritime school for details.
Establish references
During the search for a first job aboard, do day work. It is an excellent means to learn your way around a yacht. It is also a way to understand the physical demands and working style of yachts. Day work also provides you with local and yacht specific references. Be flexible on what you are willing to do – cleaning, polishing, detailing, laundry, wash-downs, painting. A seasonal or temporary job – even aboard a delivery without guests aboard – is a first step to a new career in yachting. Captains distinguish between applicants who want to enter a career and those who are looking to fill a summer. Educate yourself on the career path of the entry job so you can convey a commitment to yachting. (Immigration warning…many countries prohibit non-resident tourists from performing temporary "day work" when in their country. For example: a UK citizen admitted to the USA on a tourism ESTA cannot legally seek day work while in the USA.)
Maintain contact
Once a position of interest has been identified you must be available! Answer your phone and respond to emails immediately. Many entry positions are offered to the candidate who is ready to travel. Plans to attend a wedding in a month's time….drop them. Partying Saturday night with friends….forget it, if the job offer comes in, you jump and get onboard immediately! One of the main reasons yachts pay well is that they expect a very high level of commitment.
Marianne and Gerard are examples of crew hopefuls with no yachting experience. Putting yourself in the shoes of a crew agent or captain, would you consider either of them for a rookie position aboard?
Marianne developed a love of the water fishing with her gramps. He taught her how to trailer his small boat, to steer, anchor and cleat. She described how much fun they had washing down the boat after a day on the lake and spending the winter sanding and painting. While in college she became such a yoga enthusiast that she taught the entire family where she worked, as an au pair, a morning yoga routine.

Marianne has the basics of a junior deckhand. Maintenance is a significant part of the responsibility on deck. She also displays some experience to apply to tender driving. Since she has worked with children, there is an indication that she has the skills to interface with owner families and guests. Her enthusiasm for sharing yoga may be the extra she brings to share with guests. An interview will assess whether Marianne will adapt to the pace and demands of a large vessel and how she will adjust to a team effort.

Gerard was raised in a family who owned a small hotel in a mountain village which served two tourist seasons – winter ski buffs and summer hikers. He explained that he and his siblings pitched in at whatever needed to be done to keep the hotel guests happy and returning each year – serving meals, making beds, loading cars. When he left home to backpack the world, he earned cash along the way by bartending. He has created a favorite cocktail recipe and named it after his hometown.

Gerard lived within the hospitality industry. It appears that his parents instilled a client driven attitude from a young age. As a junior steward, he would be doing many of the same things he did at the hotel as a child. An interview can verify whether Gerard has the "white glove" service standard, understands the need for discretion, and that he would be interested in working within the 'interior'. Captains will also want to clarify whether Gerard is interested in a yachting career or if he is just adding the experience to his backpacking adventure.
The yachting industry is not a career for everyone. Rookies will find that work on a yacht is demanding, but offers great rewards. Finding a position on a yacht with no experience requires being prepared, having a detailed plan, and maintaining a positive attitude. Follow the steps outlined to increase your chances of coming aboard!