A Day in the Life Series – Chief Stewardess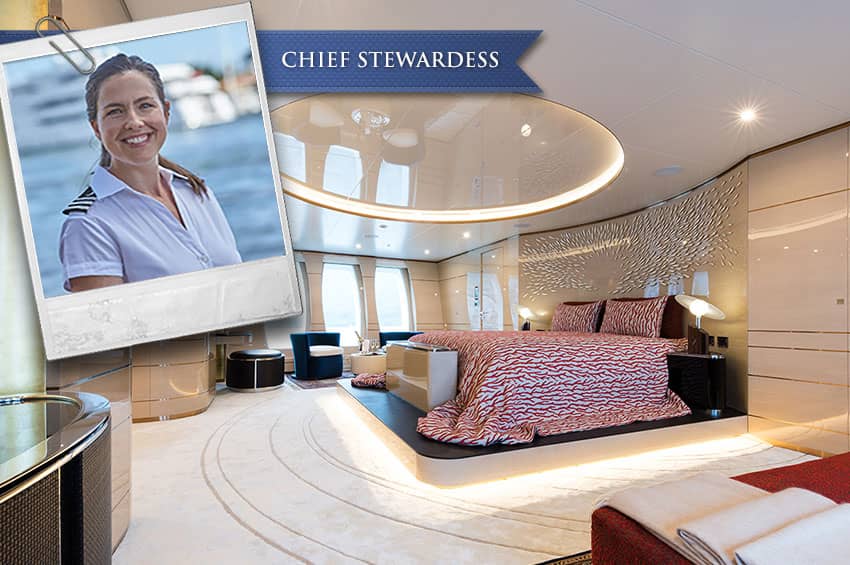 A Day in the life Chief
18 Dec 2017
For a yacht to run smoothly, it requires many working parts, and the interior department is a large component of this. The chief stewardess oversees this department and makes sure all the stewardesses onboard know what their tasks and responsibilities are. The interior department is largely in charge of the guest services whilst they are onboard, and responsible for interior maintenance of the yacht when they are not.
LuxYachts: Is there a typical day for a stewardess onboard a motor yachts?
Not exactly! On charter, it can be more similar with the schedule in place although that all depends on the guests. Off charter there will be the usual daily duties and maintenance but everything else will depend upon if you are preparing for a trip, just got back from a trip, in a yard period etc.
LuxYachts: You have worked in the role of chief stewardess onboard multiple yachts for many years now, how is being the chief stewardess different to being a stewardess onboard?
The responsibility of the department rests on the chief stewardess. You can do a great job as a stewardess by working hard. To do a great job as a chief stewardess you need your whole department to be happy, motivated and working hard.
LuxYachts: How does your role switch when the guests come onboard, versus when they are not?
When the guests come onboard most of my attention shifts to them and sometimes I need to rely on my second stewardess more to keep the interior running as usual. You can have 12 guests all wanting different things at different times in different places. My role becomes predominately service orientated with guests on and you have less time to help with other interior duties.
LuxYachts: What differences did you notice onboard different yachts? Did these change because of the crew member, the owners, or the itinerary of the vessel?
Each yacht is so different. I think it can be due to many factors. The captain and crew make a huge difference to the environment onboard - a happy crew is a motivated work force. The owners can sometimes set the tone for the yacht, trickling down through everything onboard, however, I think the itinerary of the vessel dictates what kind of crew will be onboard rather than their moods and attitudes once onboard. Different crew members thrive under different conditions and you notice this on different yachts.
LuxYachts: What was the most bizarre request you have ever had from a guest onboard?
After 11 years on yachts, my idea of a bizarre request is very different to when I first started! I'm pretty sure 'bizarre' has become standard and perhaps 'completely outrageous' has started to seem a little bizarre. From a cold can of Coca-Cola at the bedside for turndown to serving champagne in a coffee mug because it was only breakfast. I was once handed a brand-new pair of gorgeous, but expensive, heels still in their beautifully wrapped box and asked to put them on and scuff up the soles to "give them grip," whilst I was in my uniform on the dock. Once I was woken up and asked to take the guests out in the tender in the middle of the night to go stargazing. There was one charter that requested all food be cooked in Evian and not served to the children until it was just cool enough to eat, which lead to three of us stews waiting in the service elevator counting down the minutes because no chef will allow food to go cold in the galley. Or the wife that wore floor length, long sleeved gowns with open backs and wanted us to use make up to make sure her back matched her face, without getting any on the gowns.
LuxYachts: As the chief stewardess onboard, how important is your relationship with the chef and why?
Very important, you need that relationship for efficient communication and smooth service. You are their eyes and ears with the guests - everything from timing during service to dietary habits that didn't make it onto the preference sheets. A good relationship lets you give feedback and suggestions, both from crew and guests. Happy chef = happy crew and guests = happy life onboard.
LuxYachts: You have worked on both private and charter vessels, which did you prefer and why?
They are so different. A private yacht with great owners and an interesting itinerary is a dream. A busy charter yacht with a great crew and a home base is a dream. It depends on what you are looking for at that point in your career.
LuxYachts: What is it like to live onboard a yacht in a confined amount of space with people who are initially strangers?
I joined the industry straight from university so other than having less space it wasn't too different initially. When you are living and working with the same people in that small of a space, that's when you start to develop your people skills. Everyone is different; they behave and react in different ways. Sometimes it can be hard to have time away from it all when you're at anchor, on a crossing, or mid-trip. That's a factor that you might not find in a different industry.
LuxYachts: Your resume lists that you have your PADI - Rescue diver/ Deep diver/ Underwater Photography qualifications. Have you been able to utilize that much, and do you think it helps make you more marketable to yachts?
Unfortunately, I have not been able to utilize it at all. I'm not sure if it makes me more marketable to yachts unless it's a dive program and they would like the entire crew to be certified.
LuxYachts: What is one of your most favorite moments you have had onboard yachts when entertaining guests onboard?
There have been a few - when you realize they truly appreciate all the time and effort you put into their experience.
LuxYachts: How much longer do you see yourself working onboard yachts?
I have absolutely no idea, 11 years ago I thought it was going to be a summer job!