A Day in the Life Of Series - Entry Stewardess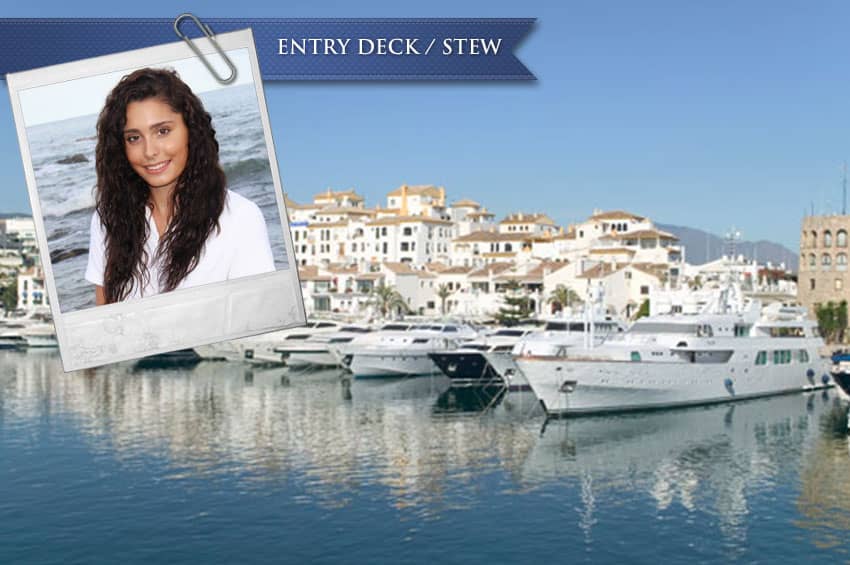 Entry deck
29 Nov 2017
Joining the yachting industry is an exciting and daunting undertaking. In this two part interview we speak with Melanie about why she decided to join the superyacht industry, what her hopes and goals are, and what she has learnt so far as an entry level stewardess.
LuxYachts: How did you find out about the yachting industry?
Melanie: I come from a small town in south Texas where we swim in lakes and rivers, not in turquoise oceans with white sand. Yachting never existed in my world, until I moved to Panama with my family in 2014.
LuxYachts: What made you decide to join the yachting industry?
Melanie: There are two reasons why I decided to join the yachting industry. First, growing up in a small town meant that everyone did the same thing after high school; go to college then find a standard 9 - 5 job. I didn't want that for myself, I wanted to get out of that box and do something completely different. I had an idea of what I wanted but I didn't know how to get to it.
Two, when my family and I moved to Panama, through traveling the country I realized how much of the world I wanted to see and wanted to experience so many unique cultures. In Panama I met lots of former sailors and yachties that introduced me to the industry, they had amazing stories and advice to share with me. That's when it clicked, this is what I'm going to do! I have friends and even family that don't understand what this industry is, and have never heard of it. I guess that means I really went out of the box!
LuxYachts: What has been the most helpful advice you have received so far?
Melanie: From all people in the industry I have met to my amazing parents, I would have to say the best piece of advice I have received is to take pride in the work I do, even if it's a simple task, do it with pride.
LuxYachts: How long do you see yourself working on yachts for? Is this something you would like to commit to for a while, or just something you would want to do for a year or two?
Melanie: I can easily say I can see myself on yachts long term. My long-term goal is to become a chief stewardess. This wasn't some spontaneous decision to move back to the U.S to work on yachts. I've been planning for this for about a year and half. Now here I am officially ready to start this adventure!
LuxYachts: Are you looking for a particular size vessel to work on, or are you open to anything?
Melanie: From what I've been told, and I agree, I think a minimum of a 164ft (50m) vessel would be the best size for me to start on. I'm self-motivated and a fast learner but having at least three stewardesses onboard that I can learn from, I think would be a better learning environment for someone "green" like me.
LuxYachts: What position are you looking to obtain onboard?
Melanie: I'm looking for a junior stewardess position or a deck/stew position. I have my Divemaster qualification, so I would love to incorporate that into which ever position I end up in.
LuxYachts: Would you prefer to work on a private or charter vessel?
Melanie: I have no experience in either, but I would love to start on a charter vessel. I love the idea of it being fast pace and unpredictable, I would imagine it keeps it exciting if you have the right mind set and attitude.
LuxYachts: What courses are you taking prior to looking for a job, and where are you taking them?
Melanie: Before I graduated high school last year, I flew to Fort Lauderdale from Panama to take a basic interior course at Bluewater to see if this is really what I wanted to do, and I loved it. The course is called The Entry Program (GUEST 1). I highly recommend any stews starting out in the industry take this course. It covers the basics of the running of the interior department, food and wine service, and bartending and mixology. It's a five-day course that so informative! After my interior course last year, I decided I would come back at this time of the year again to move to Florida, complete my STCW, and search for a job!
LuxYachts: What was your impression of the boat show?
Melanie: It was an amazing show - yachts galore! I felt really inspired being there, like this is where I'm supposed to be. After I left the boat show I became even more anxious to land my first job!
LuxYachts: Have you been doing any day work since you arrived here? If so, what do you think about the boat? What are some of the things that you've learnt that have stood out to me the most?
Melanie: The week after I completed my STCW I found day work on a perfect sized boat for a week. I've met some incredible people on this boat that are always welcoming and are always giving the best advice! Some things I've learnt while day working is that team work and communication are key. You must be willing to help one another even if that means dropping what you're doing for a little bit. You'll always be multi-tasking. Communication is so important, always communicate with who you're working with, so that you'll be on the same page and mistakes won't be made. Another thing I will add, is you're going to make some new best friends whose names are toothbrush, Q-tip, and toothpick, and you can always rely on them!
LuxYachts: Do you have any specific places that you hope to travel to?
Melanie: I have two places that I have always wanted to see, top of my bucket list! Iceland and Antarctica. Some people think I'm crazy for wanting to see Antarctica but there is no other place in the world like it! Iceland is just jaw dropping beautiful; the mountains, waterfalls, valleys, and the northern lights. I could go on and on about those two spots!