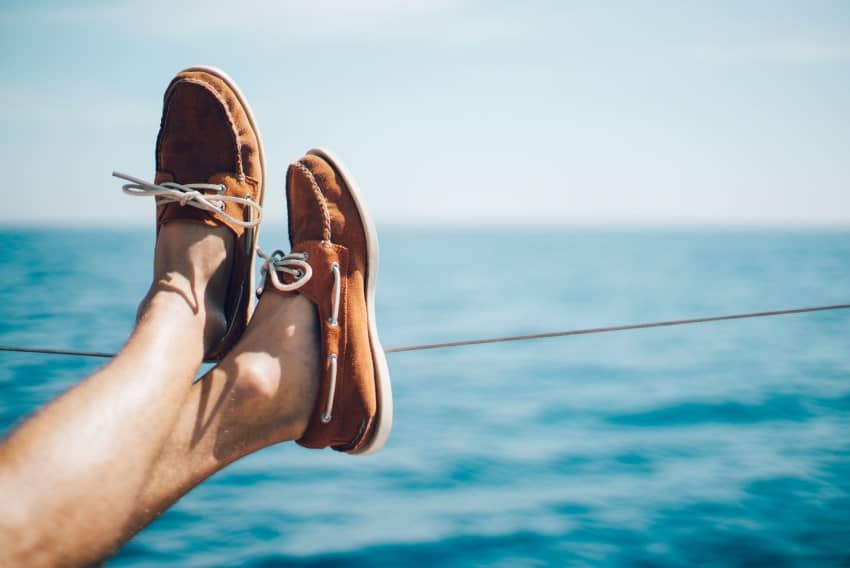 Boating vs Yachting
31 Aug 2018
Yachting industry professionals know there is a significant difference between yachting and boating, and the differentiating factor is not as simple as the overall length. Both have their pros and cons of course and need to be recognized and respected for their differences.
We know that any time you can get on the water is fun. In this article we take a light‐hearted look at some of the differences between the two to let you decide which you are more suited to, boating or yachting:
First off, you're going to need a crew. If you're boating, you may strategically invite that friend of yours who used to skipper around the Mediterranean islands a few years ago. Having people onboard who understand the rules of the road, and the importance of safety at sea, and the meaning of the word fender is critical. For this reason, your guests may crack an invite if they have additional skills which can be helpful to you and the running of the boat. On a yacht you have a full‐time, professional crew who are highly trained and skilled. No need to be handling lines or worrying about what time you can move the boat to an open slip in the neighboring marina.

Food. This is a big factor. If you're cruising around the islands on a 40‐foot catamaran there are a few things going on here. First off, you might not have a huge amount of storage space, or a huge galley to cook in. However, eating onboard probably isn't a high priority on your list of things to do, and considering you're on a boat that is easy to take just about anywhere, you're probably going ashore to eat most of your meals at the local restaurants. This is a great way to experience the places you are visiting and get a real taste (no pun intended) for their local cuisine and flavors.

On a yacht of course, you'll be taken care of by the chef, or chefs onboard. Yacht chefs are equipped to cook practically anything guests request. Vegan? No problem. Allergies? Not an issue? Your meat needs to be killed by hand and blessed by the slaughter man ‐ send the crew your preference list beforehand and they'll make it happen. Yacht crew are used to unique guest requests and will make whatever you want to happen, happen ‐ no questions asked. Additionally, on yachts there are multiple levels and styles of service. Guests and owners can choose whichever they prefer. If you are truly a hamburger and fries' kind of guy, the crew will serve you the best damn hamburger you've ever had. Or if you insist on having a Michelin star chef onboard who can create a nine‐course tasting meal, they'll do that for you too, happily.

Laundry facilities. Yachting beats this category hands down. If you're boating you're probably going to end up traveling home with a suitcase full of dirty clothes ‐ like most people do who go on vacation. The white boats however come equipped with laundry rooms bigger than most of your local laundromats, and the laundry crew are trained to take care of even the most delicate garments swiftly and efficiently. If you're yachting you're probably traveling home with your silk shirts wrapped in tissue paper (it avoids creasing at the folds ‐ duh), and somehow, they managed to get out that cranberry sauce stain from dinner at your Aunt Susan's house last Thanksgiving (how?!).

Without wanting to be crude, toilet facilities need to be pointed out in this comparative article. On a boat, you are far more aware of checking the system status before you go swimming 'just to be safe'. You also are going to be counting the toilet paper squares to avoid any potential blockages. On a yacht, it just works. Thank you, engineers!

Dockage. Here's one for the boaters. There is no question that cruising around an area and anchoring/docking a 38‐foot sailboat is far more convenient. Yachts paid excessive amounts to stay in marinas, and that is if the marina can event accommodate them. How much you draw, and the length of the vessel plays a big factor in this. Anyone who is choosing to spend time on the water, whether it be a yacht or a boat, must love being on the ocean. Boaters can drop an anchor at a shallow sandbar, hang out in clear, waist high water, cold beer in hand without batting an eyelid. Not something yacht owners have easy access to.

This leads up to our last point which of course, is cost. Either way owning or chartering any vessel costs significant money. Of course, the difference between boating and yachting costs is extreme, and the bigger you go, the more your expensive will be. Luxury Yacht Group is launching our latest version of our Superyacht Cost Calculator in October 2018 which shows users detailed breakdowns of how much it costs to own and run a yacht of at minimum 80‐feet in length, and up to 600‐feet in length.
At Luxury Yacht Group, we as people are boaters. Many of us live in Fort Lauderdale and enjoy spending time on our own, or friends' boats that we take out on the intracoastal on a Sunday afternoon. We don't mind getting our hands dirty, helping with lines, and navigating the waterways ‐ in fact we crave that. It's in our DNA. Many of us spent years on board superyachts all over the globe working as captains, chief stewardess' and pursers. We understand yachting better than most because we have lived it first‐hand, and we love everything that it is about. Fantastic crew, a high level of service, and the ultimate experience in luxury.
Nowadays our free time is spent a little differently. First, we have weekends and we chose to spend them on the water, boating, because once you get a taste for life in the salty ocean air, it becomes a part of who you are, and that will never leave you.