The Benefits of The COVID Era to Yachting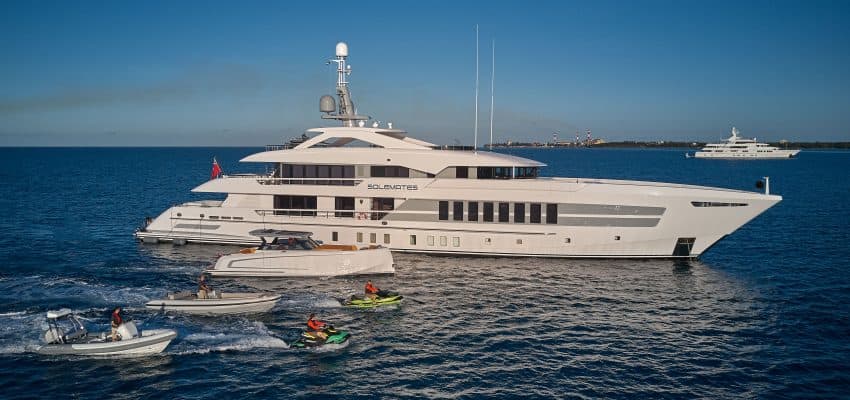 Playing on Solemates water toys
06 Apr 2021
The Covid Era in Yachting is looking forward to a bright future.
It is easy to get mired down with all the lockdowns and restrictions imposed by the pandemic. Too many hours are spent scouring the news for the latest depressing statistics and quarantines. It is hard to see there may be some positives to focus on, but we believe in looking forward to a bright future in yachting and have seen some changes take place in the industry for the better.
With heavy restrictions to yachts entering or cruising around the Mediterranean this summer many are looking to alternative destinations. At the Palm Beach Boat Show in March, crew members on Quantum of Solace were quite excited for the boat's secondary summer plans of traveling to Alaska, a place that wasn't on the vessel's radar if it were a normal Mediterranean summer season. Routes that many yachts did not travel in years past are now being explored as options for the upcoming season, alternative destinations like the Baltics, Argentina, and Greenland. Even cruising grounds that have previously been popular like the Bahamas are seeing boats push farther from the normal stops to explore the outer islands finding new anchorages and highlights for their guests.
Last year, many yachts sat patiently waiting for the pandemic to ease and trips to start again. This gave many crew members time to advance their careers by taking more maritime courses and increasing their tickets. Online classes became the norm for the year. Crew were able to study remotely and even sit their orals with the MCA online. With examiners no longer conducting in-person examinations officers are now able to use online technology to complete both the written and oral portions of the exams from whatever port they are in saving many costly flights and accommodations.
Many boats scaled back the number of employed crew in the last year which meant those remaining found themselves doing more than one job onboard. This not only helped to break the monotony of waiting out the pandemic but each crew member helping out in different departments gave them a better understanding of what it takes to run each area of the vessel making for a more well-rounded crew. With yachts starting to move again, this understanding will only benefit the smooth operation of the vessel and help build cohesive teams.
Due to COVID's ravaging of the hospitality and cruise ship industries, there was a surge in new crew with highly developed service skills joining the Luxury Yacht Group database. Executive chefs from distinguished cruise ships, five-star hotel managers and silver service restaurant servers all brought fresh faces and enthusiasm into the industry. An influx of professionally trained crew with hospitality backgrounds helps elevate the level of service onboard.
One of the biggest benefits owners saw this year was an increase in their boat's usage. Yachting became the one travel situation that, with proper testing of both guests and crew, felt safe. Spending time with family and friends on board, away from the crowds offered guests the chance to escape from home, indulge in meals from their chef, and relax in comfort knowing they were in their own secure bubble.
Last year was hard on everyone but it is important to recognize that were positive changes and acknowledge the benefits to our industry moving forward.